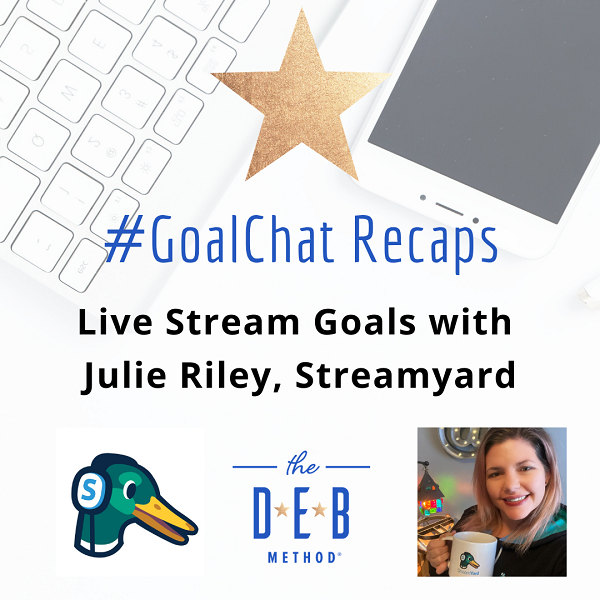 This week's #GoalChatLive was all about the value of live streaming and live stream goals. It was so meta, speaking with Julie Riley, social media manager for StreamYard, about Live streaming on a live stream. We had a blast!
Julie, who has been working in social and digital media since 2007, talked about her variety of live shows over the years. All great examples of what you can do with live streaming and what live video can do for you. She shared the value of live streaming, live-stream tips – for hosts and guests, and so much more!
"Live streaming is your chance to build a community," she said. In business, you need to build that all-important "know, like, and trust factor" with prospects and clients. And nothing builds trust like showcasing who you are through live-streaming conversations.
And the best time to start live streaming? Now! "You have to be willing to go for it!"
Julie and I agree, "Done is better than perfect." It's very easy to get caught up in the details and never go live. Your show can develop over time. But you need to start in order for that to happen.
When Planning your Live Show
Look at your audience (your fans/followers/prospects/clients), decide what are you talking about (your expertise and if there's a niche or slant to it), and also see what information (topics/guests) your viewers want from you
Figure out where you are going live, when you are going live, and why are you going live!
Have fun and be yourself
I added: Remember, DEB: Determine the Mission for your show, Explore your Options (your show details), and Brainstorm what needs to be done to launch! As your show develops, go back to your mission and motto – they are the compass for your show and what you hope to get out of it.
Watch #GoalChatLive on Live Streaming
Check out the full GoalChatLive conversation on Live Streaming in the Twitter Moments Recap.
Bonus Goals: Live Streaming
If you have never gone Live, go Live.
Step-up your Live show … or …
Reach out to a dream guest and invite them on your show
Extra Bonus Goal
Explore a shiny object – a new tool or platform – then evaluate to see if the shiny object is part of your end game.
Final Tip from Julie
If you want to get more comfortable going Live, start a private Facebook group where you are the only member. Go live to yourself and practice. You may even want to open it up and let other practice with you.
Links
I was a Guest on Live Stream Impact with Julie Riley in March

* * *
What is your best live-stream tip? Please share in the comments.
* * *
Next Week
On the next #GoalChat we will be talking about Podcasting. Join the Twitter chat on Sunday, April 11, at 7pm PT on Twitter. Then, on Monday, April 12, at 4pm PT, Michelle Abraham from Amplifyou will join me on #GoalChatLive.
* * *
For more inspiration, motivation, and tips, follow @TheDEBMethod on Twitter, Facebook, and Instagram. And connect on LinkedIn.
And get your copy of my latest book, Your Goal Guide: A Roadmap for Setting, Planning and Achieving Your Goals. Then join the Your Goal Guide Facebook group.