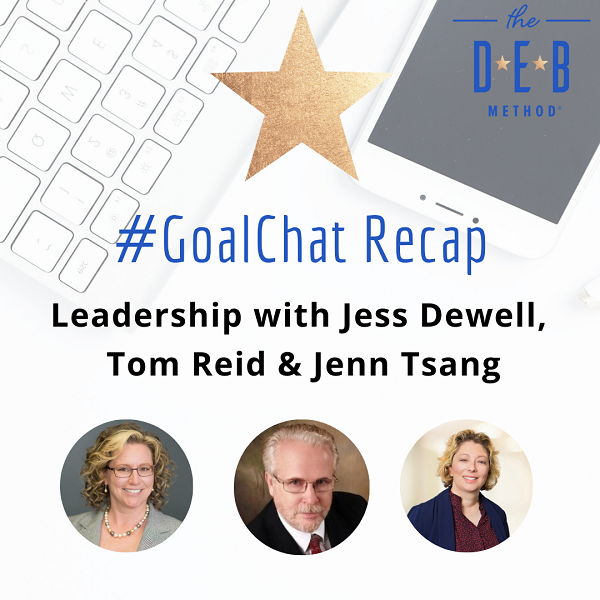 Effective
Leadership
creates impact, which is my October theme! Exceptional leaders
Jess Dewell
,
Tom G Reid
, and
Jennifer Tsang
joined me for an insightful #GoalChatLive on the topic. We discussed the attributes of leaders, the challenges of developing leaders, the future of leadership, and much more.
Are leaders born or made? Our experts agree it's both. The starting point for developing leadership – or really any – skills is choosing yourself. Discover your why, your mission, Take one step at a time, hone your skills, and learn from the people – and experiences – you encounter.
About my guests:
Jess Dewell is the Managing Partner, Operations + Strategy, at Red Direction, and Host of the Bold Business Podcast
Tom Reid is the author of Sustained Leadership WBS and a Consultant and Trainer in Leadership Development
Jennifer Tsang hosts the In the Lead Show podcast and is a Leadership Coach
How to Develop Better Leadership Skills
Jess: Go on a Present Retreat each week for personal exploration and education
Tom: Think critically, systematically, and strategically
Jenn: Know that everyone has something to teach you
Watch our Conversation on Leadership
Also, check out the full GoalChatLive conversation on Leadership in the Twitter Moments Recap.
Leadership and Impact
Tom: Become the best possible version of yourself
Jenn: Learn so you can teach others. And take care of yourself, your mental health
Jess: Build stamina for recognizing assumptions and be creative with solutions
Leadership Goals
Jenn: Create an intention around staying curious. Explore and enjoy the journey of what piques your interest
Tom: Write down five things you believe in. Then write a paragraph of why you believe it. Your leadership journey has to center around your beliefs. This will motivate you to fix things.
Jess: Say "No" more often, so you can double the time you spend in your Present Retreats
Links
What's your best leadership tip? Please share it in the comments.
* * *
On the next #GoalChat we will be talking about Messaging. Join the Twitter chat on Sunday, October 10, at 7pm PT on Twitter. Then join me, Ethan Beute, and Sheryl Plouffe on October 11 at 4pm PT for #GoalChatLive.
* * *
For more inspiration, motivation, and tips, follow @TheDEBMethod on Twitter, Facebook, and Instagram. And connect on LinkedIn.