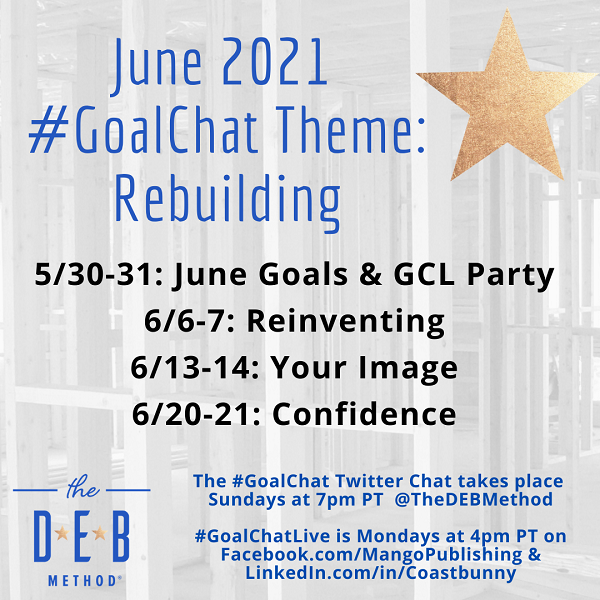 Our June Goalchat theme is Rebuilding. In a lot of ways, we are starting from scratch this summer. So, this month's guests will offer inspiration and information to help you rebuild. The June 2021 #GoalChat topics cover reinventing, as well as rebuilding your image and your Confidence.
Here are the June 2021 #GoalChat and #GoalChatLive Topics and Guests:
May 30: June Goals
May 31: June Rebuilding Party with Jennifer Ballard, Tanys Coughlin & Alina Fridman 
June 6: Reinventing
June 7: Guests are Bruce Jones, Lew Sabbag & Keith Spiro
June 13: Rebuilding your Image
June 14: Guests include Tania Sterl and Kate Paine.
June 20: Confidence
June 21: Guests are MJ Fievre, Joan Gelfand, and Jessika Phillips.
* * *
#GoalChats are every Sunday at 7pm PT, and is Tweeted from @TheDEBMethod Twitter  account.
#GoalChatLive takes place on Mondays at 4pm PT from the Mango Publishing Facebook Page.
Read the Twitter Moments Recaps.