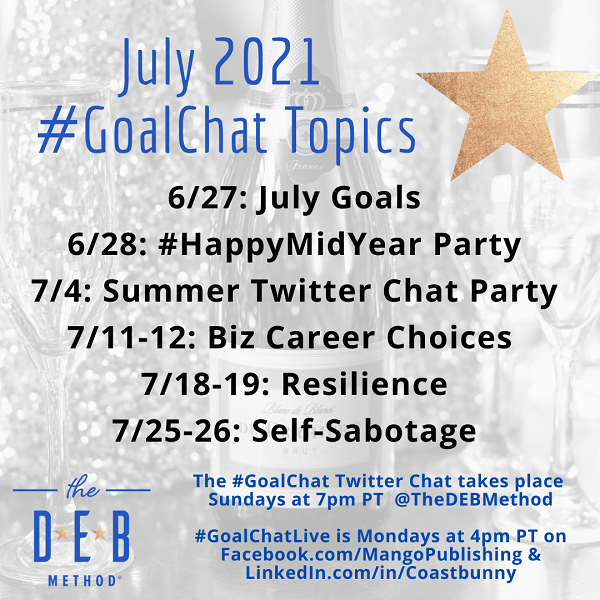 Our July #GoalChat topics are in alignment with our Happy Mid Year Theme! We are at the year's halfway point, so it's time to reflect, improve. and move forward. The July 2021 #GoalChat topics include business career choices, resilience, and self-sabotage.
Here are the July 2021 #GoalChat and #GoalChatLive Topics and Guests:
June 27: July Goals
July 28: Happy Mid Year Party with Denny Brown, Elaine Hall, and Jeff Sweat
July 4: Annual Summer Twitter Party
July 5: No GoalChatLive. Enjoy the holiday!
July 11: Biz Career Choices: Leadership, Sales & Marketing
July 12: Guests are Jon Dworskin, Joyce Johnson, and Dorien Morin-Van Dam
July 18: Resilience
July 19: Guests include Howard Brown
July 25: Self-Sabotage
July 26: Guests include MJ Fievre and Tara Reinbolt
* * *
#GoalChats are every Sunday at 7pm PT, and is Tweeted from @TheDEBMethod Twitter  account.
#GoalChatLive takes place on Mondays at 4pm PT from the Mango Publishing Facebook Page.
Read the Twitter Moments Recaps.