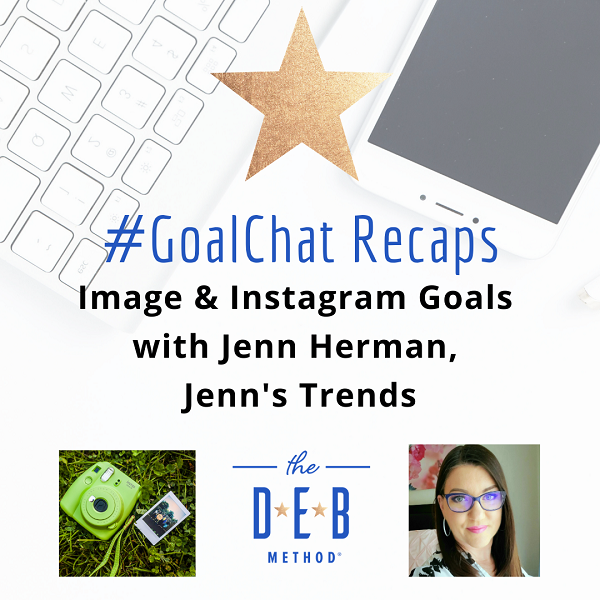 On this week's #GoalChatLive Jenn Herman joined me to talk about Images and Instagram. Jenn, founder of Jenn's Trends, is the go-to expert on Instagram … and has written several books on Instagram and is a co-author of the Ultimate Guide to Social Media Marketing.
I was adamant about wrapping up our monthly theme of Storytelling with the topic of images. When I asked Jenn why images were so important for storytelling, she that while other mediums – such as writing and video – take time for the audience to absorb, a photo tells a story … and evokes emotion … instantly!
During our conversation, we talked about creating and editing images, branding, … and had some sidetracks into Stories, IGTV, and Pinterest. The overarching theme – no matter what your position on pics and social media – is "Start where you are. And go from there." You can't do everything. Pick a platform that speaks to you and another where your audience resides. Master them, build, review, repeat!
Jenn's Top Tips
Get in the habit of taking photos everywhere you go! Get experimental with your angles, change your perspective!
When editing/adding filters, bump up the contrast to make a bold statement! Reduce it to mute. Pick a style that's consistent … and also is in line with your brand.
Enhance, but do not over-edit, your photos. For tools, Jenn likes the native phone app and editing via Instagram. Easil and Canva are great for templates, she adds.
Get a lot of photos of yourself! As an expert/author, you are your brand! You need to have yourself out there! Get a photographer .. or ask a friend, barter. Be sure to get pics of you in different environments – and different outfits – so you have variety.
Selfies are good, but all of your pics should not be selfies.
Your brand, as well as your image, will evolve over time!
Watch #GoalChatLive on Images & Instagram
Check out the full GoalChatLive conversation on Images in the Twitter Moments Recap.
Bonus Goals: Images
Basic Images Goal: Take photos of everything! Create a beautiful, well-edited image once a week.
Advanced Images Goal: Do an image audit. See how well you are keeping your images consistent on all your platforms. Those new to images can do a social media audit with images in mind.
Extra Bonus Goal: Do a mini-photo shoot, so you have images of yourself to use for ongoing posts.
Final Tip from Jenn
Have fun! Especially when it comes to your visuals! It shows in what you put out in the world.
Links
What is your best podcasting tip? Please share in the comments.
* * *
Next Week
On the next #GoalChat we will be talking about May Goals. Join the Twitter chat on Sunday, May 2, at 7pm PT on Twitter. Then, on Monday, May 3, at 4pm PT, Viveka von Rosen and Dayna Steels will join me on #GoalChatLive.
* * *
For more inspiration, motivation, and tips, follow @TheDEBMethod on Twitter, Facebook, and Instagram. And connect on LinkedIn.
And get your copy of my latest book, Your Goal Guide: A Roadmap for Setting, Planning and Achieving Your Goals. Then join the Your Goal Guide Facebook group.