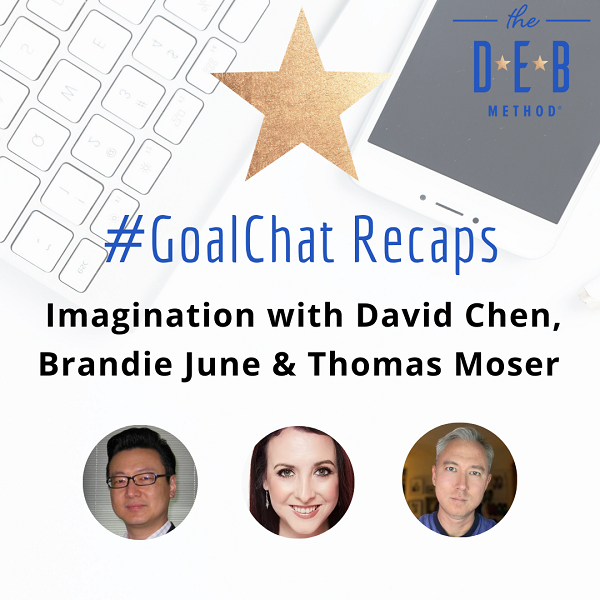 Continuing with the August theme of Fun, this week on GoalChatLive, we talked about Imagination. David Chen, Co-Founder of AngelVest, Storyboard Artist Thomas Moser (Duncanville), and Author Brandie June (Gold Spun) joined me for possibly the most logical conversation on imagination.
We talked about imagination from a start-up, as well as a creative, perspective.
According to our guests, imagination is …
Brandie: Anything beyond your actual reality
Thomas: What you can think of
David: What you can dream of
David, Brandie, and Thomas shared how they used imagination in – and outside of – their creative endeavors over the last year, tips for getting unstuck, how to tap into imagination, and more.
Watch our Conversation on Imagination
Also, check out the full GoalChatLive conversation on Imagination in the Twitter Moments Recap.
Goals for Imagination 
David: The goal is to have a goal! When you have that sense of purpose, everything will fall into place.
Thomas: Stop waiting for the perfect opportunity to start a project. If all you have is 5 minutes, take 5 minutes. Those minutes add up.
Brandie: Look at your goals from different angles to see if something else shakes loose. Flip ideas on their head.
Final Thoughts 
David: Don't be held back. Let go and set yourself free.
Thomas: All ideas have value! Have confidence.
Brandie: Come up with a structure and format to be creative.
Links
What's your best fitness tip? Please share it in the comments.
* * *
On the next #GoalChat we will be talking about Food! Join the Twitter chat on Sunday, August 22, at 7pm PT on Twitter. Then, on Monday, August 23, at 4pm PT, Cat Dillion, Meg Haworth, and Beth Howard will join me for #GoalChatLive.
* * *
For more inspiration, motivation, and tips, follow @TheDEBMethod on Twitter, Facebook, and Instagram. And connect on LinkedIn.