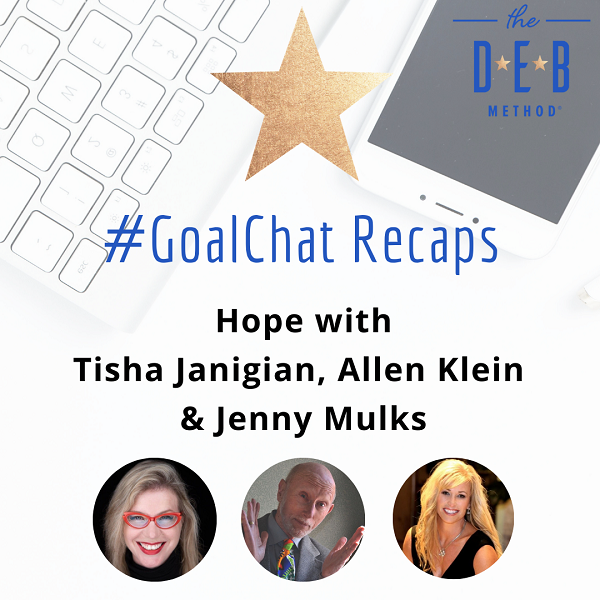 We could all use a dollop of hope, which is why it is my November theme. Guests Tisha Janigian (Founder of She is Hope LA), fellow Mango author Allen Klein (The AWE Factor), and Jenny Mulks (Founder & DEO, Along Comes Hope®) joined me for an uplifting conversation on #GoalChatLive.
At the beginning of every month, I bring together friends from different areas of my life to chat, check-in, and offer inspiration. This month's guests all lived through trauma and, not only lived through it, have used their experiences to help others.
To kick us off, Allen read the definition of hope from the dictionary: "Hope is a feeling of expectation and desire for a certain thing to happen." Tisha added, "Hope is a Vision." Jenny said, "Hope is like love. It has different definitions at different stages. Hope is like water to the soul. It empowers people to keep going." For hope, you also need trust, faith, and belief.
Beyond overcoming challenges (such as illness and loss) and starting over, another thing my guests have in common is they, like I do, enjoy making up words.
Allen is "Mr. Jollytologist®"
Jenny coined "Hope Maker," which is people who give others hope (as opposed to "Hope Takers:" negative people who spread gloom and doom
I made up GoalTopia – the place where you are realizing your goals and living the life you want – when I was writing Your Goal Guide.
When we told Tisha it was her turn to make up a word, she chose "Hopetastic!"
Watch the #GoalChatLive on Hope
Affirmations 
To find or embrace hope in challenging times, Allen recommended finding words/affirmations that give you hope. Allen's is "The world treats me as royalty wherever I go." Allen also suggested being thankful for things you want to happen.
Tisha's affirmation is "I believe in myself." Jenny said, "Surround yourself with symbols of hope."
Also, surround yourself with supportive people and, if you are able, share your story as it can help others.
Goals 
Jenny's Goal: Start her virtual cancer support group, Circle of Hope
Goal from Jenny: Share your vulnerable and beautiful self with someone who doesn't know
Goal from Tisha: Follow your passions
Tisha Goal: Take She is Hope nationwide
Goal from Allen: When you help other people, you help yourself. Write an email every day to someone past or present telling them what they mean to you.
Allen's Goal: To live long enough to keep sharing his message
Goal from and for Deb: Dance Every Day in November! #DaEvDaNo
Final Tip on Hope
Jenny: Focus on the positive
Allen: Share with other people
Tisha: Keep giving back
Links
What's your best tip for maintaining hope? Please share in the comments.
Next Week
On the next #GoalChat we will be talking about Dreams. Join the Twitter chat on Sunday, November 7, at 7pm PT on Twitter. Then, on Monday, November 8, at 4pm PT, and Elise Marie Collins, Dr L. and Leslie Marsh will join me for #GoalChatLive.
* * *
For more inspiration, motivation, and tips, follow @TheDEBMethod on Twitter, Facebook, and Instagram. And connect on LinkedIn.
And get your copy of my latest book, Your Goal Guide: A Roadmap for Setting, Planning and Achieving Your Goals. Then join the Your Goal Guide Facebook group.