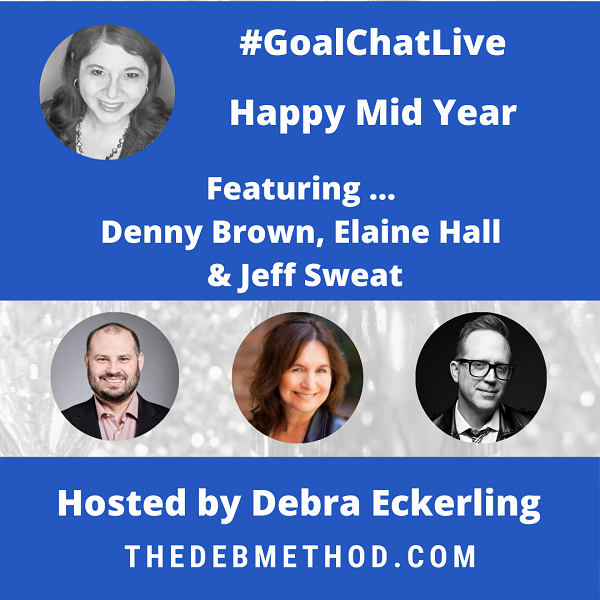 Happy Mid Year! The July #GoalChatLive Party was all about celebrating challenges and preparing to take on the rest of the year! My guests – Denny Brown, Elaine Hall, and Jeff Sweat – have overcome tremendous obstacles and use their experience to help others.
At the beginning of every month, I bring together friends from different areas of my life to chat, check-in, and offer inspiration.
My guests for the #GoalChatLive #HappyMidYear Party:
Denny Brown, co-Founder Ramsay Brown Media. Educate. Simplify. Succeed.
Elaine Hall, Visionary, Inclusion Activist & Founder of The Miracle Project
Jeff Sweat, Author & Founder of Sweat + Co
The trio shared their backstories, including what people generally don't know about them. They were also open about how their personal journeys led them to become advocates.  There were lighter moments, as well. Denny, Elaine, and Jeff shared what they do for fun, their superhero name or nickname, and how they view meal prep.
Biggest Takeaway from the Last Year
Jeff (a COVID-survivor): Don't take anything for granted
Elaine: Be open to the universe
Denny: Change doesn't happen immediately, it's incremental
Watch the July Happy Mid Year #GoalChatLive Party
Their Take on Challenges 
Elaine: Fate is the hand we are dealt. Destiny is how we play our hand.
Denny: You have two choices when faced with challenges: You can choose to grow or you can choose to stay.
Jeff: You will not leave this [time of turbulence and upheaval] the way you came in.
Happy Mid Year Goals 
Jeff: Work on a creative project! Put something on paper and commit to doing that in a set period of time.
Elaine: Remember. Write down the lessons learned. Remember who you are.
Denny: Listen more deeply. Communication is key.
Links
Meet Jeff & His Family on CBS This Morning
Explore The Miracle Project
What's your tip for taking on the rest of 2021? Please share in the comments.
Next Week
On the next #GoalChat – on July 4th – we will be having our annual #GoalChat Summer Twitter Party. No GoalChatLive on July 5. Happy Independence Day!
* * *
For more inspiration, motivation, and tips, follow @TheDEBMethod on Twitter, Facebook, and Instagram. And connect on LinkedIn.
And get your copy of my latest book, Your Goal Guide: A Roadmap for Setting, Planning and Achieving Your Goals. Then join the Your Goal Guide Facebook group.