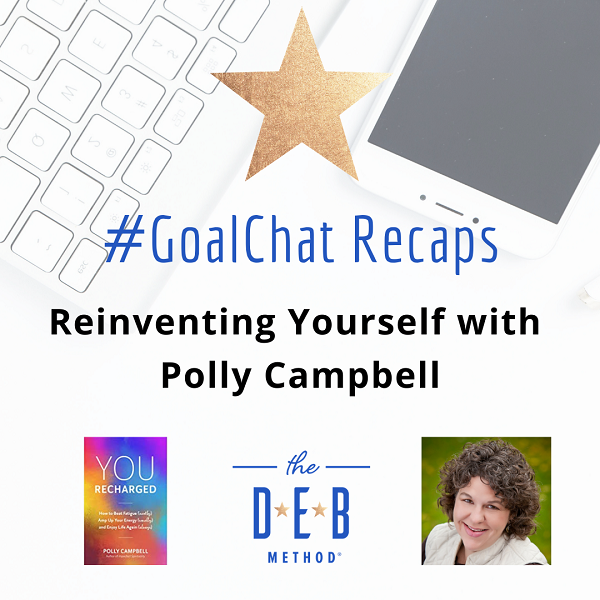 Reinventing Yourself kicks off our #FebruaryReset topics. On Sunday night's #GoalChat the community shared their reinventing stories, as well as advice. And on Monday, fellow Mango author Polly Campbell, You Recharged,  joined me for #GoalChatLive.
Polly started by sharing the mental and physical rut she was in that led to her transformation and ultimately You Recharged. Change is a choice. When reinventing yourself, you don't need to do big things.  Do one small thing to change the energy, and go from there.
For instance, when she first started recharging – or "reinventing herself" – Polly made the decision to:
Fuel her Brain
Fuel her Body
Embrace Creative Endeavors
When pursuing any goal – reinvention or otherwise – start by figuring out your purpose. Sounds like the D in The DEB Method to me: Determine Your Mission. Enjoy the journey and trust yourself.
A few other recommendations from Polly for changing your habits and patterns:
Change "I can't" to "I don't"
Stop overthinking
Celebrate all wins!
Watch #GoalChatLive on Reinventing Yourself
Check out Sunday night's #GoalChatLive conversation on Reinventing Yoursself in the Twitter Moments Recap.
Bonus Goals: Reinventing Yourself
Start where you are … and add something into your routine that you enjoy! Do it NOW!
Keep a list of your wins
Listen to Polly's Interview with Me
Launching Our Best Lives, Reaching Goaltopia – Simply Said Podcast with Polly Campbell

Links
* * *
What is your best tip for reinventing yourself? Please share your thoughts in the comments.
* * *
Next Week
On next week's #GoalChat we will be talking about Sharing Your Expertise. Join the Twitter chat on Sunday, February 14, at 7pm PT on Twitter. Then, on Monday, February 15th, at 4pm PT, J Bruce Jones is my guest on #GoalChatLive.