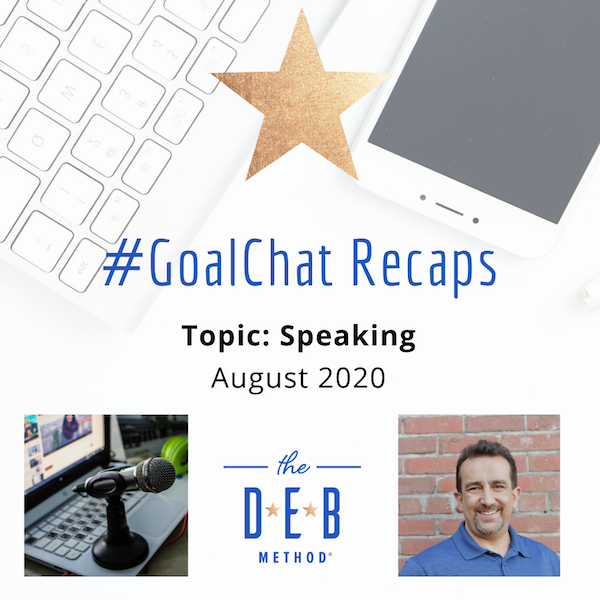 This week on #GoalChatLive, I was joined by #GoalChat regular Jim Fuhs, Fuhsion Marketing to talk about Speaking. Jim, who does marketing the "marine corp way," is a speaker, live streamer, podcaster, brand ambassador, and more. Our video is full of stories, tips, and resources for amping up your speaking chops and finding new opportunities. Sunday's Twitter conversation was also filled with advice, tools, and recommendations from Jim, me, and the #GoalChat community.
Whether or not you are currently speaking as part of your business outreach, now is the time to sharpen those skills. We're just at the beginning of online being the new normal, so work on your quick pitch, practice talking – either through an organization like Toastmasters (Jim is a huge fan!) or with friends – and do what you need to get comfortable speaking on camera. You'll be glad you did.
Watch #GoalChatLive on Speaking
Read the Twitter Moments Recap.
Bonus Goal 
Stand in front of the mirror – or record yourself on video – doing a extemporaneous speech on what you are passionate about for two minutes. Alternate: Pick a random word – like "relationship" – and talk about that for two minutes. Just start talking and see where it goes.
Extra Bonus Goal
Work on your elevator pitch. That 30-second bit about who you are, what you do, and what makes you unique.
Links
Connect with Jim Fuhs and join his Toastmasters meeting.
Watch this week's Mango Heart Wisdom Panel on Finding Your Creative Flow.
Check out the AgoraPulse Pulse Summit: LinkedIn Edition
* * *
What do you think is the value of public speaking? Do you have tips for getting more speaking opportunities? Please share your advice for improving your public speaking in the comments or on the video.
* * *
Next Week
On next week's #GoalChat we will be talking about Persistance. Join the Twitter chat on Sunday, August 16, at 7pm PT on Twitter. Then, on Monday, August 10, at 4pm PT, Diana Giovinazzo, WNBA-LA president and author of The Woman in Red, will join me on Facebook Live.