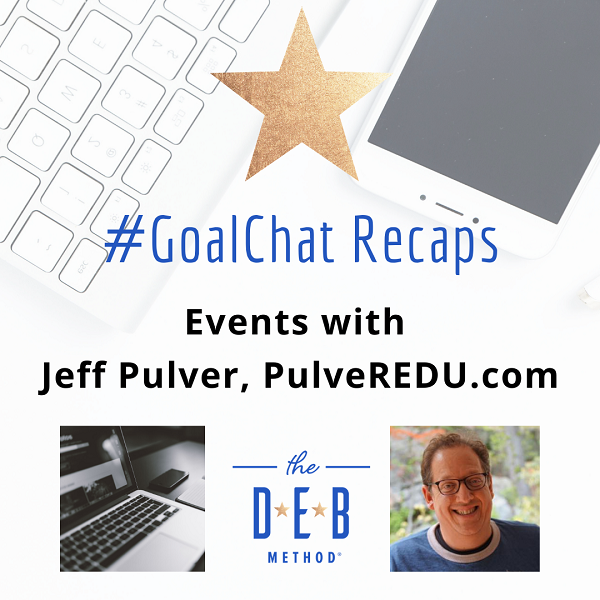 My January #GoalChat topics are focused on community development, starting with events. On Monday's #GoalChatLive I spoke with my friend Jeff Pulver, Pulver.com, who has taken online events to the next level.
Jeff is an internet pioneer, entrepreneur, and long-time event producer, who has embraced the switch from live events to all-virtual… and then some. In the last year Jeff has started multiple weekly passion-based networking events, along with a series of programming. His most recent project is PulveREDU.com, a worldwide community school, enabling subject-matter experts to teach their passion.
Jeff shared his event journey – including how we met through #140conference – and his projects (links below), as well as advice.
To make the most out of events, Jeff says:
Listen
Connect
Share
Engage
Planning to produce events? 
Look at the basics: Who, what, where, when, how. And start with Why.
Pick dates
Plan content
Set the intention
Have blind faith
If you want to create or speak at events, just go for it. Remember, "Done is better than perfect" and "Good enough is not a compromise."
Watch #GoalChatLive on Events

Check out Sunday night's #GoalChatLive conversation on Events in the Twitter Moments Recap.
Bonus Goals: Events
If you are at an event, and you see someone you want to meet, reach out immediately
Manifest your Event Destiny – Create, attend, or speak at an event
Whether you are making a plan to attend events, or create them, start with the D in The D*E*B Method. Determine your Mission. What is the purpose of this event? Who does it target? And how does it help? And what do you want to get out of it? Happy Eventing!
Links
* * *
What is your best tip for getting the most out of events? Please share your thoughts in the comments.
* * *
Next Week
On next week's #GoalChat we will be talking about Networking. Join the Twitter chat on Sunday, January 17th, at 7pm PT on Twitter. Then, on Monday, January 18, at 4pm PT, Beth Granger will join me on #GoalChatLive.