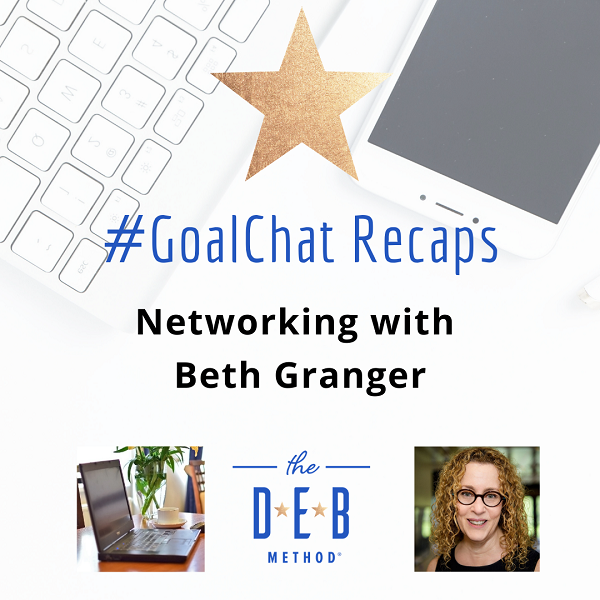 Continuing our January theme of community, this week we talked about Networking. For GoalChatLive I welcomed LinkedIn and networking expert Beth Granger, who I met through friends online more than a year ago.
Beth shared her origin story of how networking has been a valuable part of her own business journey, as well as her favorite tips and platforms for networking. Like me, Beth loves LinkedIn. And recently has found quite a fondness for the new Clubhouse audio-only app. Note Clubhouse is in beta, and only available on iPhone and iPad, so I have not yet explored this app. Beth has been jumping into a lot of conversations and then connecting with new people on LinkedIn.
No matter where you meet someone, when you connect on LinkedIn, be sure to add a note about where and how you met, as that will give the person a frame of reference. This led to a conversation on how to decide which LinkedIn connections to accept. I suggested it could be like sorting through clothes to give away from your closet. You make three piles: Yes, No, and Maybe. You know which connections are Yeses right away and your gut will tell you which ones are No. The Maybes may require more consideration. Look into who these people are, start a conversation, and get to know the person better, before accepting the connection request.
Remember, networking is a marathon, not a sprint. There are no shortcuts to relationship development. Get to know the people you meet at events and through groups, follow up through social media and email, and explore where you can connect the dots and/or refer the people you meet.
Watch #GoalChatLive on Events

Check out Sunday night's #GoalChatLive conversation on Events in the Twitter Moments Recap.
Bonus Goals: Networking
Find a new group where you can network and meet new people … And if you are not already a member of Write On Online, join here.
Ask a friend for recommendations of groups and networking events.
If you are at an event – or in a group – where you are networking, and there is no one who is a fit for you, look at the people you meet under the lens of "who you can introduce and how they can help your friends.
Anyone who knows me can attest to how much I value networking – a strong network of connections and connectors, supporters and resources, will help you reach your goals. And if we are not already connected on LinkedIn, please reach out.
Watch Beth Granger's LinkedIn Live Interview with Me
Links
* * *
What is your best tip for networking? Please share your thoughts in the comments.
* * *
Next Week
On next week's #GoalChat we will be talking about Social Media. Join the Twitter chat on Sunday, January 24th, at 7pm PT on Twitter. Then, on Monday, January 25, at 4pm PT, Christine Gritmon will join me on #GoalChatLive.