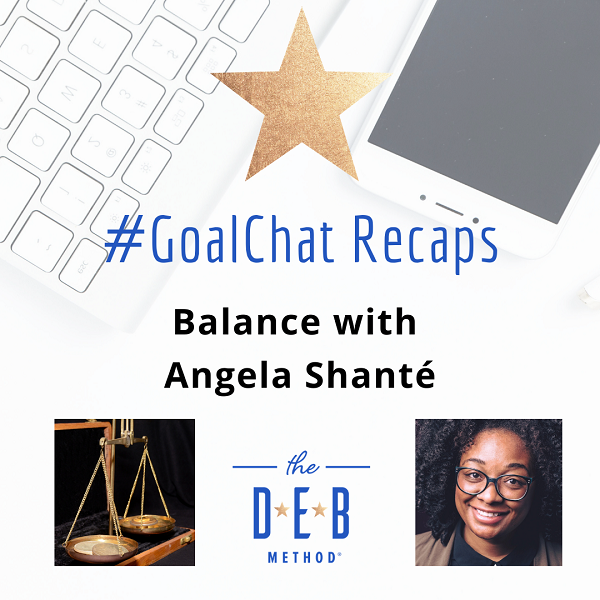 We wrapped up a month of #FebruaryReset talking about Balance. I had a great time discussing the topic with #GoalChatLive guest, Angela Shanté, who is an author, entrepreneur, and teacher with plenty of passion project! Angela is a fellow board member for the Women's National Book Association – Los Angeles Chapter, and our Diversity chair. Info on the February WNBA-LA event is below.
Angela shared her journey as a writer and entrepreneur, as well as her experience with balance. When I asked Angela how she decides what gets added in to all she juggles, she said she needs to be passionate – excited – about the things she is working on. That way it's easy to make the space.
It's also important to be aware of self-care, and schedule that – along with things like eating, naps, and joyous moments – as well. Joyous moments are those breaks in the day when you step away from work and experience something you enjoy. It can be a walk around the block, refilling the water bottle, anything that brings you joy!
A few more key points:
To succeed you have to be whole.
Demand the time and space you need for yourself to be whole!
Figure out what balance means to you.
Watch #GoalChatLive on Balance
Check out Sunday night's #GoalChatLive conversation on Balance in the Twitter Moments Recap.
Bonus Goals: Balance
Find your joyous moments. Make a list of the things you enjoy, so you know what to do when you have downtime.
When you feel balanced, make a note – mental or actual – of what you are doing, so you can replicate it.
Replicate joyous moments in 15-minute increments.
Links
* * *
What is your advice for finding balance? Please share your thoughts in the comments.
* * *
Next Week
On next week's #GoalChat the topic is March Goals. Join the Twitter chat on Sunday, February 28, at 7pm PT on Twitter. Then, on Monday, March 1, at 4pm PT, join us for an Empowerment Party on #GoalChatLive.