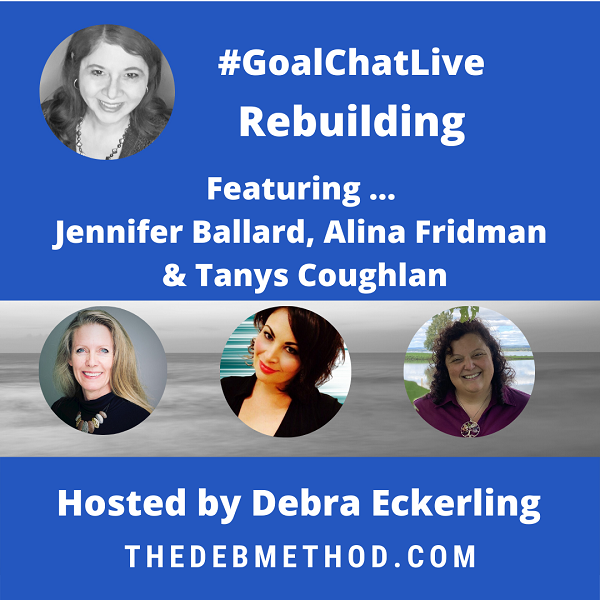 With the June Rebuilding theme, I hosted a #GoalChatLive Party with guests Jennifer Ballard, Alina Fridman, and Tanys Coughlan. It feels like we've spent the last 15 months reinventing, pivoting, and reinventing ourselves. Probably because we have. 
At the beginning of every month, I bring together friends from different areas of my life to chat, check-in, and offer inspiration.
My guests for the #GoalChatLive #Reconnecting Party:
I had a lovely conversation with this group of "introverted extroverts." Everyone shared how they adjusted and pivoted over the last year; their challengers and triumphs; what they are looking forward to as we enter the latest phase of readjustment; and more!
Watch the June #Rebuilding #GoalChatLive Party
Your Rebuilding Bonus Goals 
Alina: Look at your branding and messaging, see if it applies, and adjust if necessary.
Tanys: Do something for yourself every day … for self-healing and self-care.
Jennifer: Find ways to stay better connected with family.
Rebuilding Final Thoughts
Alina: Find your fabulous.
Tanys: Find your TLC.
Jennifer: Celebrate!
Links
What's your tip for rebuilding? Please let us know in the comments.
Next Week
On the next #GoalChat we will be talking about Reinventing. Join the Twitter chat on Sunday, June 6, at 7pm PT on Twitter. Then, on Monday, June 7, at 4pm PT, Keith Spiro, J. Bruce Jones, and Lew Sabbag will join me on #GoalChatLive.
* * *
For more inspiration, motivation, and tips, follow @TheDEBMethod on Twitter, Facebook, and Instagram. And connect on LinkedIn.
And get your copy of my latest book, Your Goal Guide: A Roadmap for Setting, Planning and Achieving Your Goals. Then join the Your Goal Guide Facebook group.