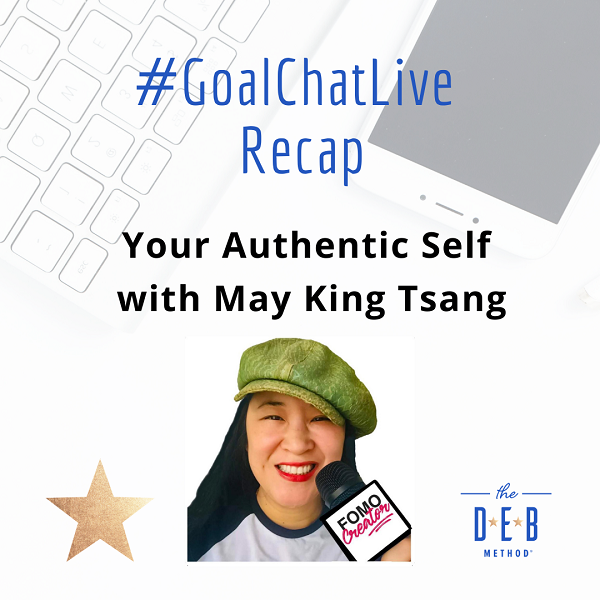 I had a wonderful time speaking with FOMO Creator May King Tsang (aka @MayKingTea) about highlighting Your Authentic Self on #GoalChatLive. As FOMO – Fear of Missing Out – Creator, May King amplifies the buzz and excitement of events by creating live social media content. May King and I met when she interviewed me during the Agorapulse Social Pulse Summit on LinkedIn over the summer.
The timing of the topic is perfect as this, May King notes, was the year of letting your authentic self shine through … for better or for worse. So why not going into the new year as your authentic self?
Authenticity is a great term, May King continues. We want to truly show ourselves – our personality, knowledge, flaws, good days, bad days, etc., because that's what makes us human and connects us to other people.
So how do you create FOMO, while highlighting authentic self? Here are some of May King's tips:
Show up
Create consistent content for lurkers, as they will eventually show themselves/reach out
Find your tribe, and reach out when you need support
Learn from others
Stay true to yourself
And, if you are concerned about tooting your own horn, May King quoted Muhammed Ali, who said, "It ain't bragging if you can back it up."
Watch #GoalChatLive on Your Authentic Self
Bonus Goals: Your Authentic Self
Reflect on what you accomplished in 2020
Links
Watch May King Tsang's Interview with Me
* * *
What was your biggest accomplishment of 2020? Please share in the comments or on the video.
* * *
Next Week
On next week's #GoalChat we will be talking about Personal Goals. Join the Twitter chat on Sunday, January 3rd, at 7pm PT on Twitter. Then, on Monday, January 4th, at 4pm PT, we will have our Calendar New Years party on #GoalChatLive.