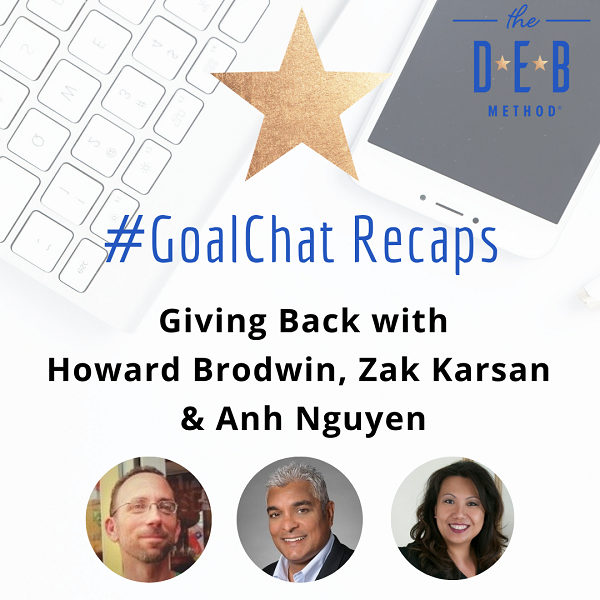 On this week's #GoalChatLive, Howard Brodwin, Zak Karsan, and Anh Nguyen joined me to talk about Giving Back. We talked about the value of giving back, simple ways to give, and more. The topic not only ties into my November theme of Hope, but what better time to talk about Giving Back than Thanksgiving Week!
About my guests:
Howard Brodwin is Founder of Sports and Social Change and Co-Founder & Chief Impact Officer of CommonAlly
Zak Karsan is Co-Founder & CEO of SecureEDEN; CEO, Vault America; and on the Board of Directors for Scleroderma Foundation New England
Anh Nguyen is the Founder of Amplified Marketing, the Houston Leadership Board Chair for the Arthritis Foundation. She is also involved with Impact Hub Houston
My guests shared their connection to giving – how they got involved in their respective organizations – as well as their take on the giving mindset and the "reality check" that comes when you spend time helping others.
Watch the #GoalChatLive on Giving Back
Also, check out the full GoalChatLive conversation on Giving back in the Twitter Moments Recap.
How Giving Back Helps You 
Zak: Giving is the purest form of success and satisfaction. Give smart
Howard: It gives you a shift in perspective. Someone else's circumstances can change you in a powerful way. For instance, spend time at a Special Olympics event
Anh: Giving back makes you feel like you are more than just your job, what you do. And helping even one person can make a huge difference
Goals
Zak: Respect others and be kind. Also, remember to take care of yourself
Howard: Share what you are doing in giving back with the people in your circle
Anh: Find one small local grassroots community that's serving a need that resonates with you and see what you can do to help
Bonus: Get an Amazon Smile account
Final Thoughts 
Howard: Vote
Zak: Give something to someone, whether it's a smile, a hug, or a donation of time or money to a charity
Anh: Find something that resonates with you. Just do it.
Links
How do you give back? What are simple things people can do to help others? Please share in the comments.
Next Week
On the next #GoalChat we will be talking November and 2021 wins, as well as December and 2022 Goals. Join the Twitter chat on Sunday, November 28, at 7pm PT on Twitter. Then, on Monday, November 29 at 4pm PT, we'll have our #Start2022Now New Years Party with Joey Held, Keith Spiro, and May King Tsang on #GoalChatLive.
* * *
For more inspiration, motivation, and tips, follow @TheDEBMethod on Twitter, Facebook, and Instagram. And connect on LinkedIn.
And get your copy of my latest book, Your Goal Guide: A Roadmap for Setting, Planning and Achieving Your Goals. Then join the Your Goal Guide Facebook group.