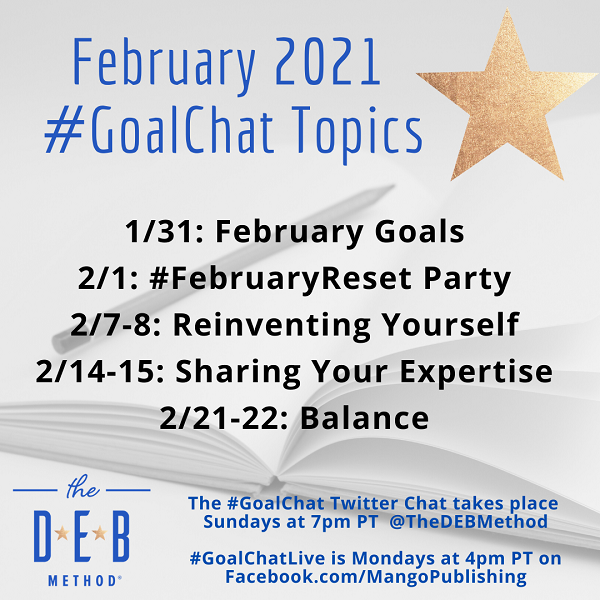 Who is ready for a February Reset? If you raised your hand, you are not alone. The February 2021 #GoalChat topics include Reinventing Yourself, Sharing Your Expertise, and Balancing. Happy #FebruaryReset!
Here are the February #GoalChat and #GoalChatLive Topics and Guests:
January 31: February Goals
February 1: #February Reset #GoalChatLive party with Jennifer Watson, Brian Brady, and Jon Domsky.
February 7: Reinventing Yourself 
February 8: Guest is fellow Mango author Polly Campbell, You Recharged
February 14: Sharing Your Expertise
February 15: Guest is author, designer, and promoter J Bruce Jones. Check out Bruce's tip to #Start2021Now!
February 21:  Balancing
February 22: Guest is author, publisher, and entrepreneur Angela Shante.
* * *
#GoalChats are every Sunday at 7pm PT, and is Tweeted from @TheDEBMethod Twitter  account.
#GoalChatLive takes place on Mondays at 4pm PT from the Mango Publishing Facebook Page.
Read the Twitter Moments Recaps.