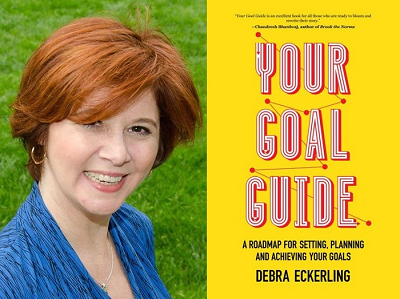 As the country starts to reopen, author/goal coach Debra Eckerling says, "July is the new January."
It has been a tumultuous 2020, and finally we can look toward the future. There is no better time for people to reset their New Year's Resolutions.
Eckerling, the author of, Your Goal Guide: A Roadmap for Setting, Planning, and Achieving Your Goals, is here to help. 
Your Goal Guide was released by Mango Publishing on January 14, 2020. Less than two months later, the world shut down. As everyone emerges from isolation and adjusts to the new normal, they can use all the support they can get.
Join our Virtual Half-Birthday Party for Your Goal Guide on July 14, 2020, with video tips, party favors, and giveaways on The D*E*B METHOD Facebook page.
Also watch TheDEBMethod.com blog and Facebook page for new events, resources, and interviews (like the one below) posted throughout the month.
Your Goal Guide
Whereas most goal-setting books tell readers how to achieve the goals they set, Your Goal Guide starts with that pivotal first step. Helping people figure out what it is they actually want, and then guiding them through creating a plan to achieve it.
Part 1 of the book goes through my brainstorming and task-based system, the D*E*B METHOD®. DEB stands for Determine Your Mission, Explore Your Options, Brainstorm Your Path. It gives readers exercises, tools, and examples to hone in on their new destination, whether it's related to their career, business, expertise, or work-life balance.
Part 2 of Your Goal Guide is filled with strategies for success, which range from staying motivated and productive to dealing with roadblocks and sidetracks.
Part 3 has a variety of websites and communities to support readers on their journey. This includes recommended expert resources, as well as my dedicated Your Goal Guide Facebook group, her weekly #GoalChat Twitter chat on Sundays, and #GoalChatLive each Monday on Facebook.
Ready for a fresh start? July is the new January!
Your Goal Guide is the roadmap everyone needs as they make new plans for the rest of 2020.
* * *
For more information on Your Goal Guide or to book me for an interview, check out my media page or contact thedebmethod@gmail.com.