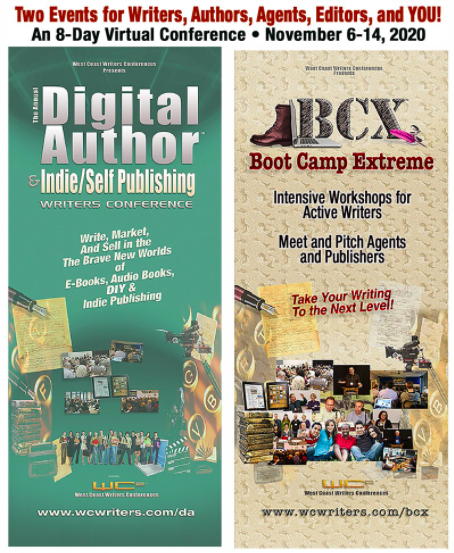 Like many events this year, the Digital Author & Indie/Self-Publishing Conference is taking place online. So excited to be speaking!
The  nine-day conference, which runs November 6 – November 14  covers a variety of areas that impact the art, craft, and life of being a writer.
My panel – How to Organize Your Writing Life – takes place on Friday, November 6, at 7:30pm. Nic Nelson, Sara Anne Fox, and I will discuss how to map out more writing time … without losing sleep!
On Friday, November 13, at 6:15pm, I will share 5 Tips for You To Win Big as a Writer in 2021.
Whether you are an aspiring or veteran writer, looking to enhance your work or improve your marketing, to self-publish or find an agent, there's something for you.
Here's the complete schedule.
* * *
The West Coast Writers Conferences (WC2) offers writers of all genres and disciplines a wealth of essential information, inspiration, education and consultation in the craft and business of writing. Each event, from half-day workshops to writing retreats, to full weekend conferences, features industry experts, educators, agents, publishers, and best-selling authors in one or more disciplines and genres.
Hope to see you there!