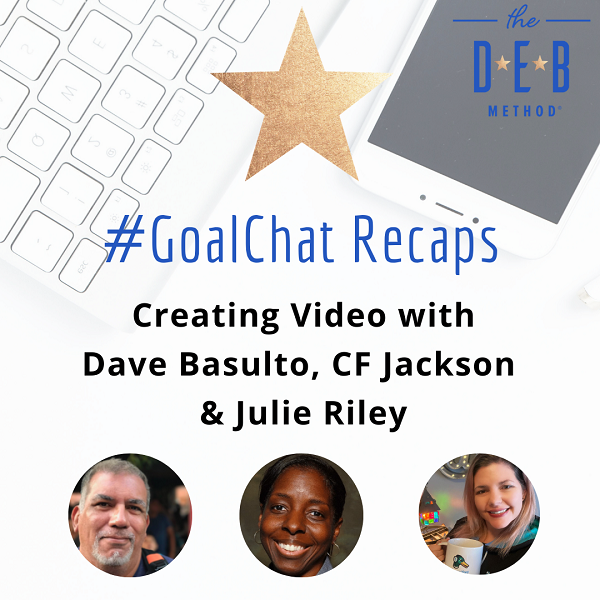 This week's #GoalChatLive conversation on Creating Video featured perspectives from the realms of tools, production, and distribution. Our guests – Dave Basulto, Founder, iOgrapher; CF Jackson, Content Coordinator, iDefineTV; and Julie Riley, Social Media Manager, StreamYard – had great insights and advice.

Getting Started Creating Video
Julie: Make a list of all the questions you get asked in your business. Each question can be a video
CF: Start behind the camera, put storylines together, get your messaging in order
Dave: Make a list of things you have access to, use it to formulate your story, grab your camera, use your tools to tell stories
Watch our Conversation on Creating Video
Also, check out the full GoalChatLive conversation on Food in the Twitter Moments Recap.
Favorite Tools for Creating Video
Dave: iPhone 11 Pro Max
CF: Learn how to use your smartphone. And get a selfie stick
Julie: Use Agorapulse to manage your social media responses
Video Goals
CF: Start giving comments via video
Dave: Small businesses, get a Facebook page, sign up for Streamyard, start doing videos and building your audience
Julie: Sign up for Streamyard, join the Streamyard Facebook group, make a video
Final Thoughts for Creating Video
Dave: Learn at your own pace, take a step every day
CF: Find the fun
Julie: Do not compare your day 1 to someone else's day 1000
Links
What's your best video tip? Please share it in the comments.
* * *
On the next #GoalChat we will be talking about Creating Content! Join the Twitter chat on Sunday, September 19, at 7pm PT on Twitter. Then join me, Rick Broida, Erika Held, and Jon Moore  at 4pm on September 20 for #GoalChatLive.
* * *
For more inspiration, motivation, and tips, follow @TheDEBMethod on Twitter, Facebook, and Instagram. And connect on LinkedIn.