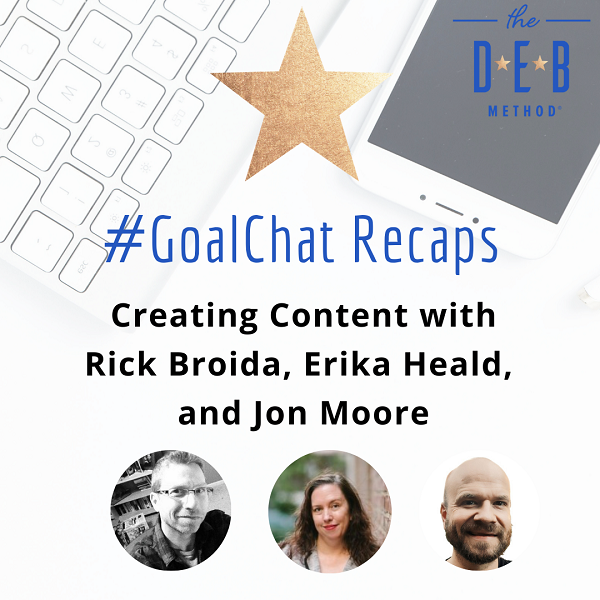 To talk about Creating Content, Tech Editor/Writer
Rick Broida
, Writer and Content Marketing Strategist
Erika Heald
, and Chief Deployment Officer
Jon Moore
 of The Asset joined me for #GoalChatLive. Our guests – who have a range of experience and insight in writing, marketing, events, and more – shared their backstories, side hustles, and lots of tips.
The key ingredients for creating content:
Know your purpose/mission
Educate, inform, entertain
Have fun
Watch our Conversation on Creating Content

Also, check out the full GoalChatLive conversation on Food in the Twitter Moments Recap.
Favorite Tools for Creating Content
Creating Content Tips
Rick: Strike while the iron is hot. Create when you know it's the best time for you!
Erika: Be a digital packrat … and be organized about it
Jon: Put yourself in your audience's shoes, visit your website with fresh eyes
Goals
Erika's Goal: Do video content for her food blog

Goal from Erika: Find the thing that you've always dreamed of doing – something that scares you – and pitch yourself for it

Jon's Goal: Take the advice her gives to clients

Goal from Jon: Start somewhere and be consistent!

Rick's Goal: Get out of the house. Figure out how he wants to spend the next phase of his career/life. Perfect reason to get a copy of Your Goal Guide

Goal from Rick: Take baby steps.
Links
What's your best content tool or tip? Please share it in the comments.
* * *
On the next #GoalChat we will be sharing September wins and setting October Goals. Join the Twitter chat on Sunday, September 26, at 7pm PT on Twitter. Then join me, Civia Caroline, Kimberley Day, Karen Laos, September 20 at 4pm PT for #GoalChatLive on Impact, which is our October theme.
* * *
For more inspiration, motivation, and tips, follow @TheDEBMethod on Twitter, Facebook, and Instagram. And connect on LinkedIn.