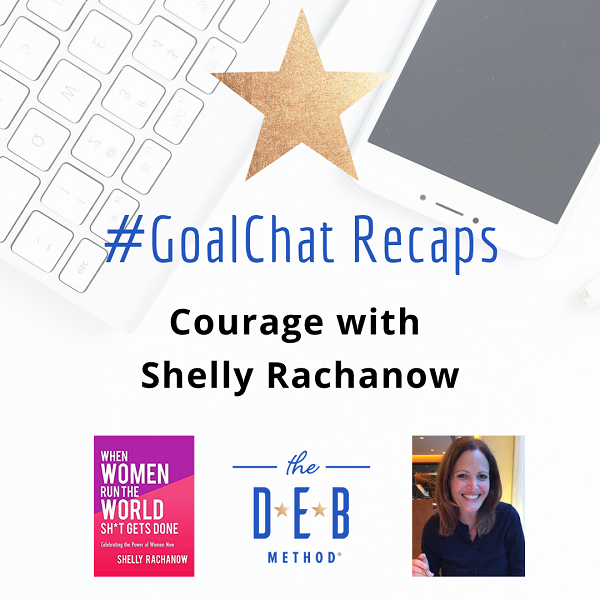 When I asked fellow Mango author Shelly Rachanow what she wanted to talk about to celebrate #InternationalWomensDay, she said, "Courage." The conversation – on what is courage and how to summon it – was a hit on Sunday night's Twitter chat, as well as on Monday's #GoalChatLive.Shelly's latest book, When Women Run the World, Sh*t Gets Done,  is inspired by her mother's courage … and is a testament to women everywhere.
In the book Shelly tells stories of ordinary women doing extraordinary things. During #GoalChatLive Shelly shared her very personal backstory, how the book – including the title – came together, and her mission to empower women. She even put together a Go Fund Me, encouraging others to honor the amazing women in their lives. Shelly will donate copies of her book to the Southern California non-profit Women's Journey Foundation and to WISEPlace, a shelter that cares for women in need. The goal is to instill hope in those who are struggling … to inspire them through stories that showcase the courage of others.
"Courage," says Shelly, "is the willingness to try." To summon courage, Shelly quiets her mind, and thinks about what her mom and others have gone through. If they can do it, so can she. Shelly draws on inner motivation, as well as support from friends.
To be more courageous, Shelly recommends, start by thinking of the first step you need to take … "Be willing to get in the car, start the car, get out of the driveway …"
Some other thoughts:
When faced with a challenge, you always have a choice: resist, run, or act.
It's never a failure to try. When you try, you have everything to gain!
You never know what results will come from your actions.
Watch #GoalChatLive on Courage
Check out Sunday night's #GoalChatLive conversation on Courage in the Twitter Moments Recap.
Bonus Goals: Courage
Do something little each day to make a difference.
Ask for something.
Links
* * *
What is your advice for finding balance? Please share your thoughts in the comments.
* * *
Next Week
On next week's #GoalChat the topic is Passion Projects. Join the Twitter chat on Sunday, March 14, at 7pm PT on Twitter. Then, on Monday, March 15, at 4pm PT, join me and author Bridgitte Jackson-Buckley.