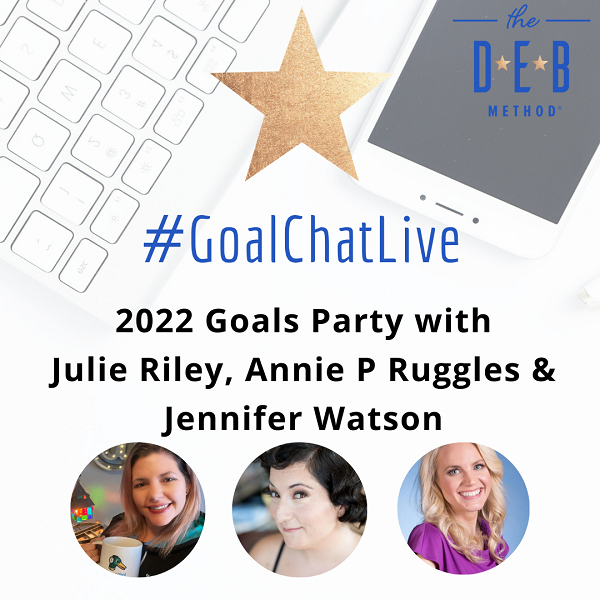 Happy New Year! On this week's #GoalChatLive, I celebrate the start of 2022 – and 2022 Goals – with guests Julie Riley, Annie P Ruggles, and Jennifer Watson. My aim is to give everyone the motivation and inspiration they need to work toward their goals for 2022 and beyond. As we talked about wins, goals, and tips for success, this heartfelt ep became a cross between the Weather Channel, HGTV, and Hallmark.
About my guests:
Julie Riley is Social Media Manager at StreamYard
Annie P Ruggles is the Founder & Dean at The Non-Sleazy Sales Academy
Jennifer Watson is Senior Social Media Manager at ActiveCampaign. She is also a meteorologist with two shows on The Weather Channel
Julie, Annie, and Jennifer shared their professional and personal wins from 2021, their plans for the new year, and more.  A spirited sense of community and support was felt throughout the conversation!
Watch the 2022 Goals Party on #GoalChatLive 
Also, check out the GoalChatLive conversation on January and 2022 Goals in the Twitter Moments Recap.
Big Ahas from 2021
Jennifer: We're all influencers! Tell your story and you will find your tribe. Not everyone's going to like you. You do you!
Julie: You are not alone! Find people to support you in different areas of your life
Annie: Just because it hurts doesn't mean it matters. Sometimes an emotion is just an emotion
Goals from Our Guests
Annie: Realize you are a natural salesperson.. and that's a good thing.
Jennifer: Write down what you love about life. Look at your life now. See if they match. And if they don't match, fix t!
Julie: Put realistic action behind your goals
Links
What was your biggest win of 2021? What is your big goal for 2022?
Next Week
On the next #GoalChat we will be talking about Mindset. Join the Twitter chat on Sunday, January 9, at 7pm PT on Twitter. Then, on Monday, January 10, at 4pm PT, Bernadette Boas and Rachael Wolff join me on #GoalChatLive.
* * *
For more inspiration, motivation, and tips, follow @TheDEBMethod on Twitter, Facebook, and Instagram. And connect on LinkedIn.
And get your copy of my latest book, Your Goal Guide: A Roadmap for Setting, Planning and Achieving Your Goals. Then join the Your Goal Guide Facebook group.